The € Series For Sale
The € Series starts at € 1 and continues up in € 1 increments.  
When I sell one of the painting for the € amount on the canvas I then work on selling the next one in the series (last painting +1). I sell the paintings in numeric order but you can reserve then in advance.
All of the triple digit painting are 12x16x1.5 inches. All canvases have been primed and when the painting is finished they are all varnished for protection. Hanging wire and backings have been put on professionally to gallery standards. Artists quality acrylic is used for all paintings. Postage and handling is included anywhere in the world when you buy the painting.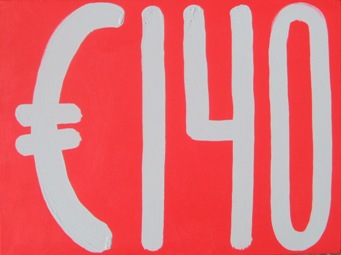 Currently for sale  12x16x1.5 inches ready to hang € 140 total cost including P&P
€ Reservations List
To reserve a painting email me and let me know what number and currency. You can only purchase that number when I get up to it.   
€142 Rebecca Daly
€143        Andy Zajt
€144        Graham & Gaynor McDonald
€145         Dane O'Dell
€146        Donald R
€147          Alan Handy 21 Nov 2006
€150          Lesley Melia Tooze 19 Dec 2006
€151        Richard Huang
€152        Eric Hinterschied
€161        Mike Rowland
€169        Matt Hall
€183 Emma Robinson
€203        Dan Maguire  
€211        Francesco Rodano  
€221        Brian Vosburgh
€222        Grumpy  12 Dec 2006
£229 V.P. Rajesh
€230 Carden Calder
€245        Nick Sherwood
€250 Brian Coppola
€287 James Zimmerman
€288        Dwight McWethy
€313       Gualberto Diaz 16 May 2007
€333        Grumpy  12 Dec 2006
€444        Twindonut
€500        Graham & Gaynor McDonald
€555        Gaynor McDonald 
€666        Snowman 12 Dec 2006  
€777        Snowman 12 Dec 2006  
€888        Snowman 12 Dec 2006  
€911        Anthony Tully  
€999        Snowman 12 Dec 2006  
€1000       Graham & Gaynor McDonald
€1313       Gualberto Diaz 16 May 2007
€1959        Twin Donut
€1971 Eric Kottke
€1973        Anthony Tully
€10 000         Gualberto Diaz 16 May 2007
€100 000        Anthony Tully
€250 000        Anthony Tully
€500 000        Anthony Tully
€1 000 000      Anthony Tully