The $US Series started at $US1 and continues up in $US 1 increments.  
When I sell one of the painting for the $US amount on the canvas I then work on selling the next painting in the series (last painting + 1). I only sell them in numeric order. However you can reserve a number in advance.
All of the triple digit painting are 16x12x1.5 inches. All canvases have been primed and when the painting is finished they are all varnished for protection. Hanging wire and backings have been put on professionally to gallery standards. Artists quality acrylic is used for all paintings. Postage and handling is included anywhere in the world when you buy a painting. Payment is usually by Paypal.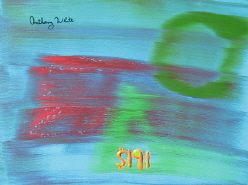 Currently for sale 12x16x1.5 inches ready to hang $US 191 total cost including P&P
$US reservations list.
To reserve you painting email and let me know what number you want. You can only purchase that number when I get up to it. 
$US 192 Reserved
$US 197 Lucas Mohr
$US 198 Leighann Y
$US 199        David Riester
$US 200        Andrew Hale
$US 201        Sian Withey
$US 202        Andrew Lilly
$US 203        Dan Maguire
$US 207        Charlie Reece  
$US 211        Francesco Rodano  
$US 212        George Danenhauer
$US 214        Ben Townson
$US 220 Shanna Trenholm
$US 221        Brian Vosburgh                          
$US 222        Moritz Zumbühl   7 Nov 2006
$US 225        Reserved
$US229 V.P. Rajesh
$US 230 Carden Calder
$US 234         John Galloway
$US 250 Brian Coppola
$US 255         Jeremy Bornstein
$US 256         Jeremy Bornstein
$US 287 James Zimmerman
$US 288        Dwight McWethy
$US 300        Andrew Hale
$US 303 Matt Evans
$US 304        Fred Coulson
$US 310 Matt Evans
$US 313        Gualberto Diaz 16 May 2007
$US 324        David Daniels
$US 348        Kevin Boudreau  5 July 2007
$US 333        Grumpy  12 Dec 2006
$US 379 ILana Seid
$US 400        Andrew Hale
$US 404         Robert Hodgin
$US 439 George Wright
$US 444        Twindonut
$US 500        Graham & Gaynor McDonald
$US 521 Ryan West 7 Sep 07
$US 555        Snowman 12 Dec 2006
$US 666        N, from Massachusetts
$US 777        Robert Robinette
$US 888        Snowman 12 Dec 2006   
$US 911        Darrin Barnes
$US 928 Jeff Albrecht
$US 999        Moritz Zumbühl   7 Nov 2006
$US 1000      Graham & Gaynor McDonald
$US 1001      Bill Farrell
$US 1313      Gualberto Diaz 16 May 2007
$US 1337      Steve Steffenhagen
$US 1492 Matt Evans
$US 1600 Matt Evans
$US 1776 Jonathan Brosnahan
$US 1960 Matt Evans
$US 1968 Matt Evans
$US 1969 Matt Evans
$US 1976 Patri Friedman
$US 1973      Anthony Tully 
$US 1980 Matt Evans
$US 1984 Matt Evans
$US 1991 Matt Evans
$US 1999 Matt Evans
$US 2001 Matt Evans
$US 10 000 Gualberto Diaz 16 May 2007
$US 100 000        Anthony Tully
$US 250 000        Anthony Tully
$US 500 000        Anthony Tully
$US 1 000 000     Riiko Sakkinen